Since lockdown, many of our relationships to exercise have changed. Perhaps we can no longer access the gym we're a dedicated member to, or maybe we're downloading Couch to 5k because we've realised that sitting inside all day does not replace the daily walk/half-jog to the station to catch the train to work. Another reason we may be doing more is simply to fill our days, since many of us have been furloughed or have extra hours to spare since lockdown. I know that's definitely true for myself –  I have never exercised so much in my adult life and part of that is due to having the luxury of time to do so.
I would never have classed myself as a sporty child per se, but I was certainly happy to participate. Though I detested any games in PE that involved balls flying at my face, I loved the days when the crash mats were carted out of the store cupboard on a squeaky trolley and the blue climbing frame was unlocked from the gym's wall. Most of my exercise came from the dance lessons I was lucky enough to attend several times a week until I was sixteen.
Then high school happened and PE wasn't fun any more. Boys and girls were split into separate classes and suddenly it was cooler to not care about putting in an effort. Polo tops and shorts were swapped for baggy t-shirts and leggings, often changed into in the toilet cubicle for fear of showing our classmates our pubescent bodies. While the rest of the class played football on the AstroTurf, my group of friends sat in the tiny gym with a solitary treadmill listening to Demi Lovato (it was 2013, okay?).  I vowed I would get better at exercising while at university, but the sports societies  felt quite cliquey and the heavy drinking rules frankly frightened me. It was fine, I couldn't be Troy Bolton and do sport and theatre. Being Sharpay was simply fabulous enough.
I began to properly notice the absence of regular exercise in my life in the first year and a bit (which is now I guess) out of uni. The first year in particular was mentally tough anyway, which I've spoken about before. So I decided to do something about it: I whipped out my phone and promptly followed as many people who hashtagged 'fitspo' as possible, alongside diet pages which compared the calories of cake to celery. It was January 2019, and I naturally equated exercise to obtaining the perfect [insert body part here]. Everything, to me, felt focused on 'summer bodies' and buying the latest GymShark collection. Plucking up the courage to go to the gym was more exhausting than the exercise itself. I was personally not a fan of people standing around you while you 'finished your reps' or waited for you to leave the mat.
That summer, while standing on an overheated and overpacked central line on my morning commutes, I read Eat Sweat Play by Anna Kessel. I'd heard lots of people talk about it before, but had never dived into it myself. The book explores women' relationship with sports, interviewing key people in the industry and examining sports with women's bodies, motherhood and the culture that surrounds them.
"Don't we all remember our childhoods, running down a hill so fast it made us laugh until we couldn't breathe? When did we lose our sense of play? Sport is just playing, after all. And exercise is just moving out bodies, not hard penance"– Anna Kessel, Eat Sweat Play
A month later I cancelled my gym membership. It was a waste of money. Instead I found some amazing dance classes that were focused on fun rather than 'being the best' or 'getting the perfect body'. So much of what I (and perhaps many other women) absorbed about exercise was to do with body image, rather than it helping with mental health and overall ust being fun rather than a chore.
Like I mentioned before, during lockdown I have been doing more exercise than ever. One factor may be because I have been largely living on my own and so the fear of other people being around (or disturbing them) has disappeared, but it's also that the sense of community feels so much more. Even though irl classes have been replaced with Zooms and Instagram Lives, there is still a wonderful strong sense of community and support. Our dance teacher creates video mash-ups of us doing the routine each week, and the yoga instructor who I discovered during lockdown runs a 'Yin and Tonic' class on a Friday, where we cheers each other after every pose. There's something nice about knowing we are all in a similar situation, with many of us being beginners at whatever activity it is we're trying.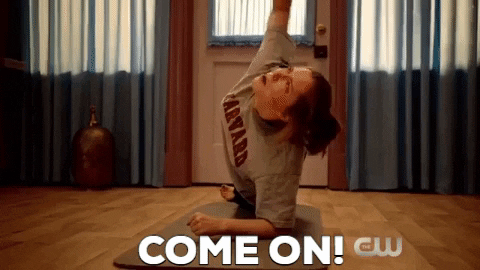 Speaking only from my own experience of course, lockdown has enabled me to try out different workout classes and discover what I enjoy. To realise that from now, exercising is for my brain and for fun above all else. I don't care how many calories I have burnt (and I understand this is a privileged position to think from, as a thinner woman) or if I'm doing it in my most creased t-shirt that day. I think I like it, and I hope that it's something I can continue to take pleasure in once this situation starts to fade away. Maybe I will find a netball team or start swimming when that's available, or maybe I'll simply continue to dance, sweaty and smiling.
If anyone is interested, my four favourites that I go to ever week are Gabby Allen, Sassy Dance, Laura Bunting Yoga and Charlotte Malpass. All of the four women running these classes, lives, and IGTV tutorials and so lovely, and make their sessions inclusive for all abilities as well as ensuring there's that real community spirit despite being behind screens.