At the weekend I saw CATS. The cinematic adaptation of the international hit musical by Andrew Lloyd Webber. The film is directed by Tom Hooper and has a very starry cast, including (but not limited to!) Judi Dench, Ian McKellen, Taylor Swift, Jason Derulo, Idris Elba, Jennifer Hudson, James Corden and Rebel Wilson.
So I was pumped. I was ready. I'd heard all the hullabaloo on Twitter so I walked into the cinema like this
and I sat through all the adverts waiting patiently (must remember to book Little Women)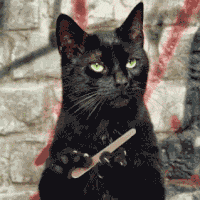 then it STARTED


tbh, I wasn't too freaked out by all the "Digital Fur Technology" and CGI stuff, I just imagined it was like the stage show. Or maybe I had become desensitized to it.
..but then "The Old Gumbie Cat" song (about and sung in part by Rebel Wilson) began


she ate cockroaches with HUMAN FACES on them
and then…unzipped her skin – truly terrifying


how I felt when she kept making jokes in the middle of the Rum Tum Tugger's song
next up was James Corden giving us his best Bustopher Jones, who is supposed to be suave and posh (a tory???)
instead there's a way-too-long shot of champagne being poured into his mouth while he's lying on his back and I've had NIGHTMARES about it
anyway I have to say that Francesca Hayward's dancing is truly superb and honestly so beautiful – brava!
me dancing to Mungjoerrie and Rumpleteazer because it was the most theatrical moment thus far

here she is!! bow down to Old Deuteronomy, a real Queen

when they try to add a plot and make Macavity some sort of villain?

when they try to make a love story between Victoria and Mr Mistoffoles 
IAN MCKELLEN AS GUS THE THEATRE CAT – truly the best casting ❤

Ian McKellen drinking out of a saucer


"Skimbleshanks the Railway Cat" slaps and you can't say you hate a tap dance


when Bustopher and Jennyanydots get captured so you don't have to hear their awkward one-liners anymore

Taylor Swift popping in singing ((usually a duet)) [also my fave song in the score] really well – serving us camp

idk why but Derulo's lil high harmonies in "Magical Mr Mistoffoles" made me giggle


crying in the club when Jennifer Hudson sings "Memory"

Judi Dench staring straight into my soul while she's in Trafalgar Square (which incidentally is right next to my work office so I've now named that specific lion Dench)

Anyways, that was CATS. It was fun but a bit bland. It wasn't half as outrageous as people made out so instead it felt forgettable. I am sure it will resurface as a cult classic in many years to come!!
** images are from Google
** all opinions my own, this is simply a fun post pls don't come for me